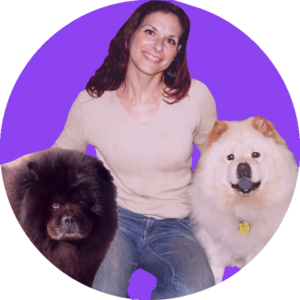 I have worked with dogs and their people via group classes, private basic training and behavioral counseling since 1995.
Member of the Association of Pet Dog Trainers & licensed as a Delta Animal Evaluator since 1996, I am also a Former Veterinary Technician.
Certified AKC Canine Good Citizen Evaluator & Certified Clinical Nutritional Counselor. 
Volunteer evaluating dogs at shelters a the SPCA, and training staff how to evaluate and train dogs.
Designed and delivered seminars language and bite prevention to Rhode Island Animal Control, shelter & SPCA workers plus schools.
Served on the board of directors for the New England Chow Chow Club for approx, 25 years.
Founded and ran Paws for Independence, a small non- profit organization that adopted shelter dogs and trained them to assist people with disabilities (wheelchair assistance, hearing alert, balance, etc.)
I have studied with many of the world's top dog trainers and behaviorists, including Dr. Ian Dunbar, Jean Donaldson, Sue Stemburg, John Fisher, Gary Wilkes, Wendy Volhard, Karen Pryor, and many others
Certified through Therapy Dogs International, as part of a certified pet-therapy tearn(s) and have been a regular active visitor to the Hasbro Children's Hospital with my dogs Diva (Keeshond) and Moxie (Chow Chow) since 2001.
I have trained award-winning dogs for conformation, obedience and Rally obedience competitions.
For fun, I participate in agility, conformation, canine musical freestyle, obedience (& Rally) and tricks with my own dogs!